Planning to go on a summer trip? Going on vacations with family? The most important thing to have fun and entertainment during traveling by bus or any vehicle is watching movies.
Also, if you have amazing kids DVDs then you can enjoy with your children during your travel. But it is not possible to play the DVDs without a DVD player and it is also not convenient to carry that huge bulky DVD player with you.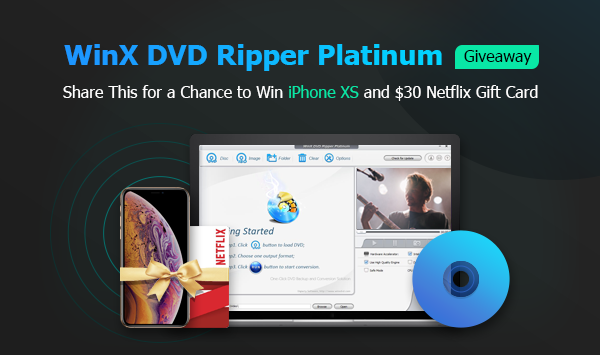 So, for this issue, here is a perfect solution. You can actually rip and backup all your DVDs and play on any device. The soft copy of DVD content would do great and WinX DVD Ripper Platinum is one of the best DVD ripper available on the internet. Well, what's in this DVD ripper that makes it such a popular DVD ripper? Let's get to know.
What Does WinX DVD Ripper Platinum Offer?
Easily Rip All Kind Of DVDs
What makes WinX DVD Ripper Platinum a wonderful DVD ripper is its ability to rip all kind of DVDs. This is a one-stop solution for all your DVD ripping needs. This DVD ripper tool is compatible with almost every type of DVD. It doesn't matter what type of DVD you want to rip, it is here for you as it can rip all types of DVDs without any hassle.
With the help of WinX DVD Ripper Platinum, you can rip 99-title DVDs, music DVDs, workout DVDs, movie and TV series DVDs. What's even better, it can even rip the scratched damaged and unplayable DVDs. Another feature of WinX DVD Ripper Platinum is that it lets you play all the region restricted DVDs which are not playable in your region as you purchased them from other country or place. You can rip DVD to AVC, MP4, MOV, and other formats.
Rip DVD to Portable Devices And Smart TVs
If you want to play your DVD videos on your smart devices like iPhone, iPad, or some Android devices then you can easily rip DVD to these devices. It also lets you rip all your DVDs to smart TVs such as Apple TV and other devices including Amazon Fire phone, Microsoft (WP8, Surface, Xbox One),  Sony (PSP/PS4), Fujitsu, and so on.
With this feature, you can rip and make your DVD content compatible with all your devices so that you can play them anywhere on any device.
Faster Ripping speed
Level-3 hardware acceleration of  WinX DVD Ripper Platinum fully utilizes the GeForce GTX 1080 Ti, Intel Core i5/i7 CPU, etc making the processing speed 32X faster. So, it would save a lot of your time as it would quickly rip your DVD in no time. You would be surprised to know that it would take about 5 minutes to rip a feature-length DVD.
Easy DVD Edit
Not only to rip DVDs but WinX DVD Ripper Platinum also lets you edit DVDs. There are some basic DVD editing tools available in this DVD ripper using which you can edit your DVDs with ease. The software allows you to crop the DVD and also remove all the unwanted areas and parts of your DVD. You can also combine several DVD titles into one. You can even add the subtitle track and also add the downloaded SRT files.
Lossless Quality DVD Backup
You must be afraid about the quality loss of the DVD content while ripping it. Well, you don't have to be as WinX DVD Ripper Platinum provides you lossless quality output videos. It doesn't alter the quality of your videos and provides the output videos with the same quality as the originals.
Giveaway Offer!!!
WinX DVD Ripper Platinum has already won our hearts with all these amazing features. To make it even better the company is offering a free giveaway of WinX DVD Ripper Platinum. Which means you can get instantly get WinX DVD Ripper Platinum license worth $67.95 for free.
You can also participate in the contest and win one iPhone XS and Netflix gift cards. All you have to do is to submit a valid email address and share the campaign, follow WinXDVD Facebook, subscribe newsletter, etc to increase your chance of winning.
So, hurry up and grab the offer asap as it ends on August 9th, 2019.
How To Backup DVD Using WinX DVD Ripper Platinum
Here is the complete process to backup DVD to hard drive using WinX DVD Ripper Platinum.
I. Load in Any DVD disks
First, you have to download and install WinX DVD Ripper Platinum on your system. Now you need to insert the DVD you want to rip. After that, on the software screen, click on DVD Disc option. And then choose the source DVD option.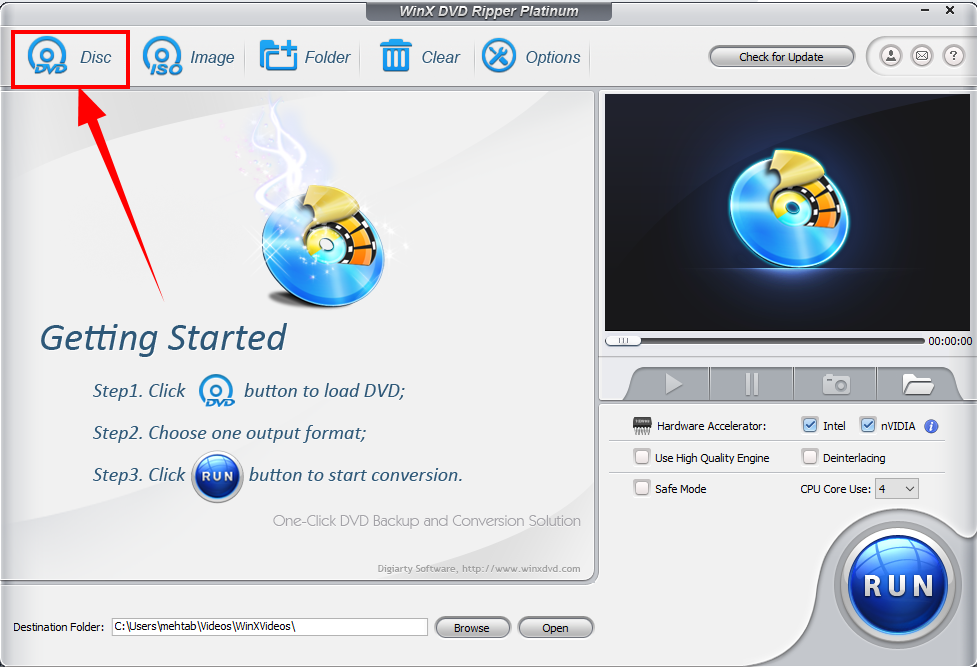 II. Choose the DVD backup mode
Now you have to choose the output profile to which you would like to rip your DVD. You can either select any format or any device.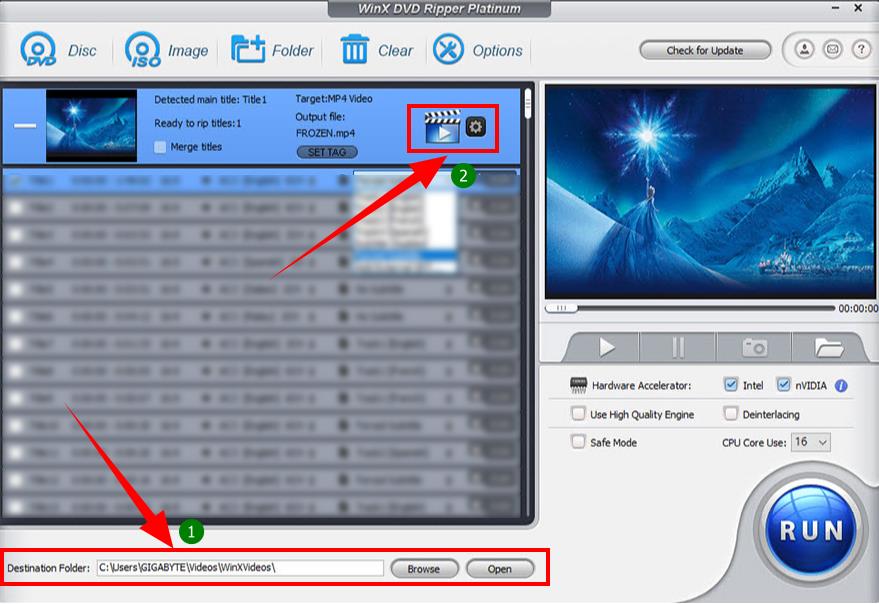 It also supports main title content copy, full title copy, clone DVD to ISO image and DVD folder. So select the mode as per your need. You can even specify the destination folder for storing the output files.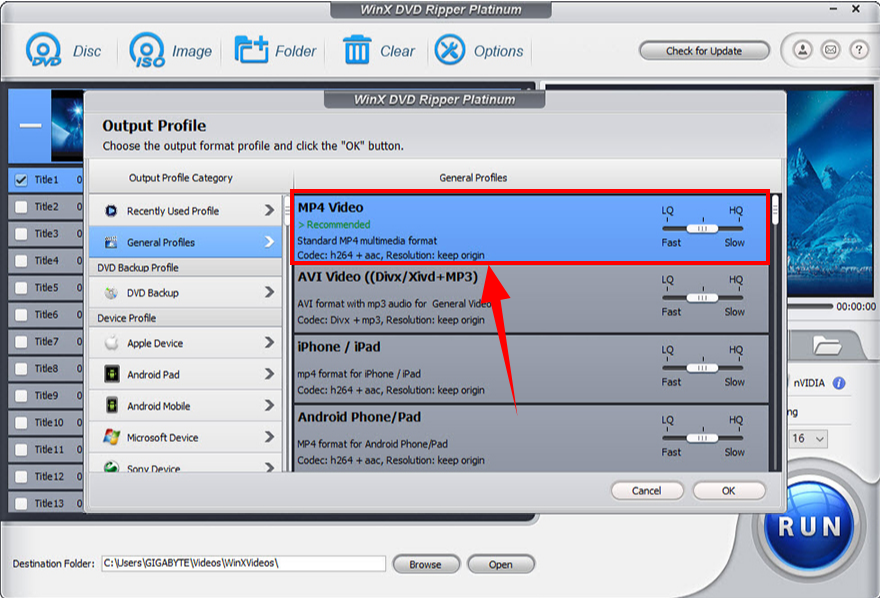 III. Finish DVD Ripping
At last, simply click the Run button. It will start ripping the DVD and the output file would be saved in the specified folder.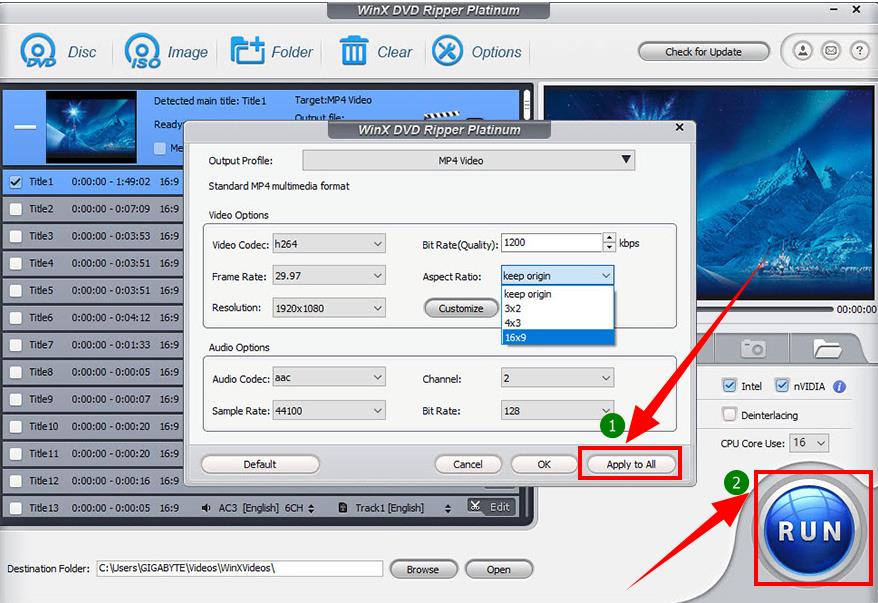 So, this way you can easily backup your DVD using this DVD ripper. So, get more advantage don't forget to participate in the giveaway and sweepstakes offer as you can instantly get the license key of WinX DVD Ripper Platinum just by entering your email address.
Final Words
WinX DVD Ripper Platinum is a must-have software if you frequently need to rip or backup DVDs. It is such a powerful software with many efficient features. The software fulfills all the requirements for DVD ripping needs such as ripping to several formats, making DVD content different device compatible, edit videos, etc. The pricing is also quite affordable and yes, with the giveaway offer you have a chance to get it for free.