More often than not, businesses need to send faxes. It is still accepted as official correspondence. Many agencies and government offices force you to send or receive documents via Fax. However, you don't really need to buy a bulky fax machine to send or receive Fax. It does not have to be costly at all.
You can send or receive fax online for free from right from your computer. There are a lot of great online fax services available that not only enable you to send a fax online but also sends you an email notification when you receive a fax. Let us get to know how we can send and receive fax online for free.
Top Online Fax Services to Send Free Fax
We are going to get into the details of 3 best online services for sending or receiving a fax.
1. Online Fax Sender
One of the most popular and efficient online service to send/receive fax. Online Fax Sender provides services in over 27 countries including USA, Australia, Canada, China, Costa Rica, Mexico, Iceland and more. Just like the other fax services they provide both free and premium plans. The best part is that they provide the maximum number of free pages per day. This is the one I use for my occasional faxing requirements.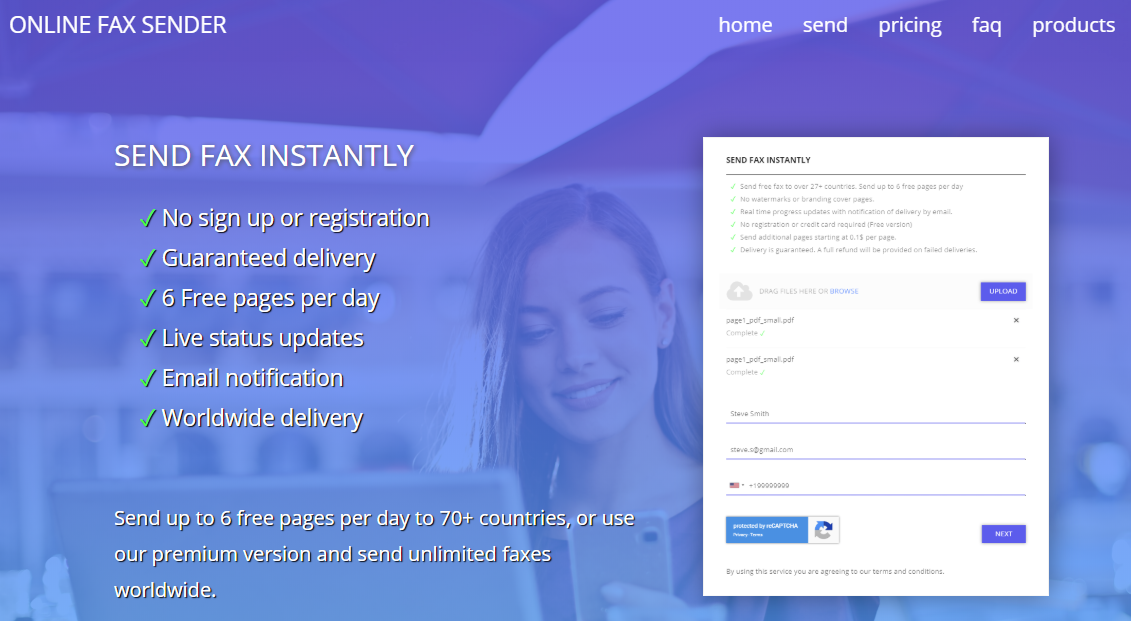 Online Fax Sender provides 6 free pages per day. If you want to remove this limitation then you can opt for their premium plan which would cost you about $0.1 per page. Most of the premium fax services are costlier than this.
You can also monitor the progress of your fax as it is being sent along with the estimated delivery times. Failed faxes are re-sent up to 6 times to ensure delivery. However, if the premium faxes still fail to deliver, you get full refund.
Key Features
Send fax to any real devices in the world


No registration or sign-up required


Up to 6 free pages per day


Free fax to up to 27 destinations


Email notifications


Monitor the progress of your fax with estimated delivery times


Guaranteed delivery


Premium faxes at just $0.1 per page


Secure payment interface


How it works
It's pretty easy to send or receive faxes with Online Fax Sender.
Step 1: Upload your documents using the online form. A wide range of formats are acceptable like docx., pdf, jpg, etc.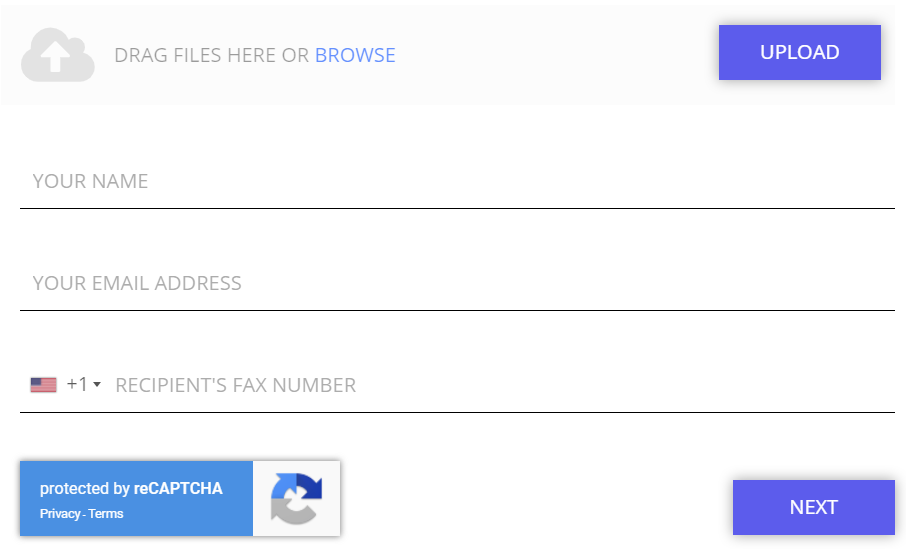 Step 2: Now, enter the receiver's fax number. Once you submit the form, you will be notified if the fax can be delivered for free or would require some additional payments.
Step 3: Sit back and wait for the fax to be delivered. You will receive notifications via email.
2. FaxZero
Another popular service to send faxes online. With this service, you can send fax online in US or Canada. The service enables you to either send a PDf file or write a text to the fax.
With FaxZero you can send up to 5 free faxes online and up to 3 pages per fax. In the free version, FaxZero features an ad on the cover page. For sending more faxes, you can try their paid version. Charges – $1.99 per page.
Features
Document formats – Doc, Docx & Pdf


5 free faxes per day


Premium faxes at $1.99 per page


Payments via PayPal


Email notifications


How it works
You just have to fill the form available on the homepage. Enter the sender's details, the receiver's details and attach the documents. That's it. Hit the send button.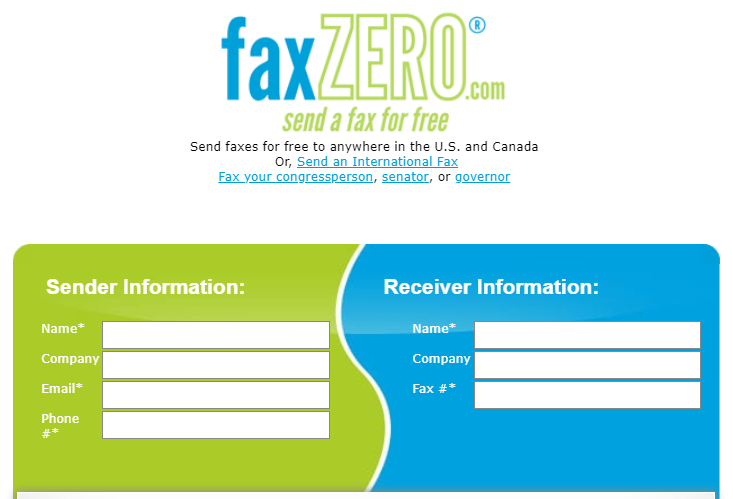 3. eFax Free
eFax is a decent online service to send faxes. It allows you to receive up to 20 pages per month. eFax also sends email notifications. Although, you cannot send free faxes with this service. For sending faxes, you would need the premium account. The paid membership starts at $5.95 per month.
Features
Receive up to 20 pages per month


Paid membership includes toll-free number


Email notifications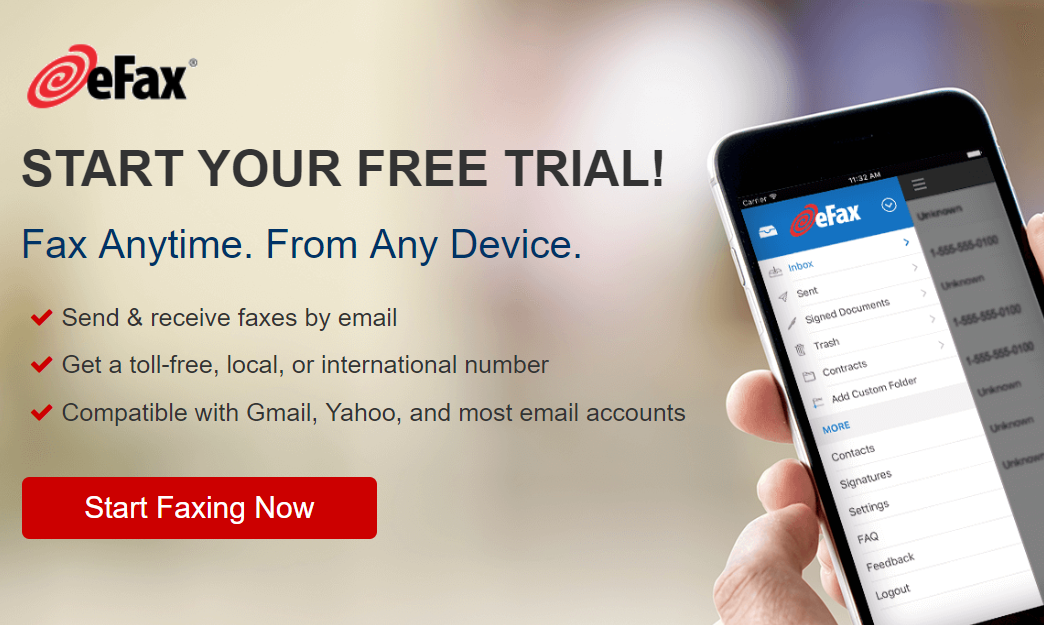 These are some of the best ways to send faxes online. I like Online Fax sender more because they deliver faxes worldwide and also provide more free faxes than other services. Also, the paid plan is more than affordable with just $0.1 per page. Although, other services are also decent so, it all depends on your requirements.